December 11th, 2022
After some useless hassle with plain Wine and Lutris I realized you don't need either to install Blizzard's Battle.net and StarCraft II. If you're into Linux gaming, you surely have Steam with Proton installed and those two are enough. Furthermore, Proton is well optimized for games, so you don't need to start finding missing libraries and so on. It could very well be that other games work too, but I've only tried SC2. Once you have Battle.net in place it should be very easy to try the rest.
Without further ado, here's how:
First download the Battle.net installer: https://www.blizzard.com/en-us/download
+ Add a game – Add a Non-Steam Game…
Browse until you find the downloaded installer .exe. You need to show all files instead of just .desktop files.
After adding the game, Properties – Compatibility – Force the use of a specific …
I used Proton 7.0.5, which was the latest stable version at that time
If you haven't allowed Proton for all games, do it first: Steam – Settings – Steam Play – Enable Steam Play for all other titles
Play the installer
Login with your Battle.net account, might need to create one ofcoz
When Battle.net starts, just quit it completely
The installer is not needed any longer, so you can just Manage – Remove Non-Steam game
+ Add a game – Add a Non-Steam Game…
Browse again to find the Battle.net launcher, the exact location might depend on your setup, but on mine it was .steam/debian-installation/steamapps/compatdata/4081110483/pfx/drive_c/Program Files (x86)/Battle.net/Battle.net Launcher.exe
A simple find -iname 'Battle.net Launcher.exe' in your home directory will find it too
Add and Play
Next next next through the tutorial
Under "All Games" you should find SC2 and then just start the installation
Wait quite a while – you can start playing before everything is downloaded
Press Play (on tape)
Sounds like a chore but in reality it isn't too tricky or time consuming at all. It did take some experimentation to get it working in the first place, but there it is. If that blank background and icon bother you in the Steam inventory, you can right click the background and set a custom one. A custom icon can be added in the Properties. Here's some candidates if you don't want to search on your own: background and icon.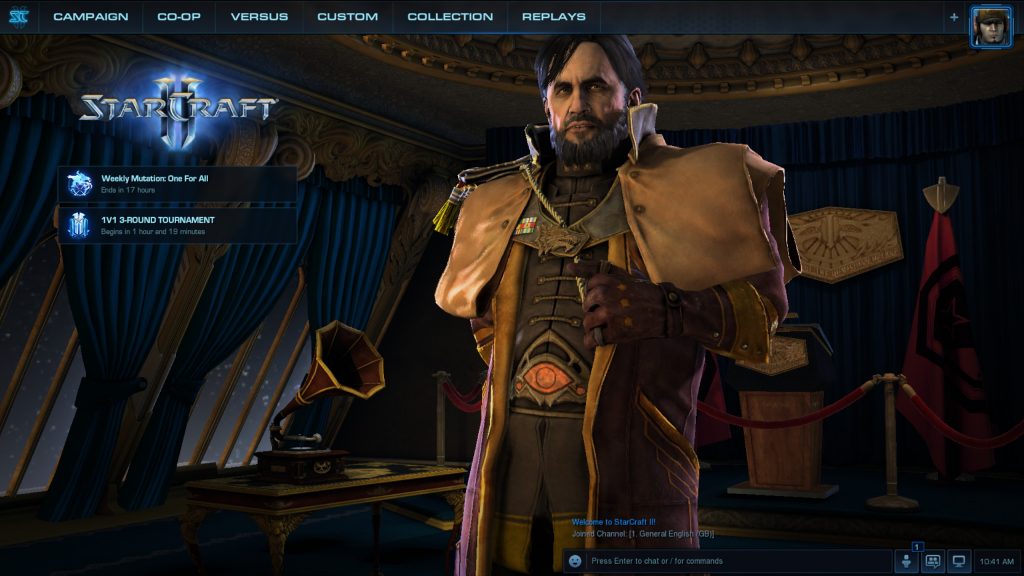 Seems to work! Can't say if it's as easy for other games, but at least Starcraft II seems to run very smoothly and stably – online matches included. A little annoyance is that Steam's default screenshot key (F12) pops up a menu in the game, but that can probably fixed somehow and doesn't stop you from playing anyway. Do note that you don't need to through the all the above steps to install other Battle.net games, as the app works as the installer and launcher for them too. Happy holidays to Protoss, Terrans and Zergs alike!